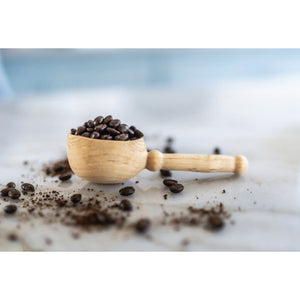 Gentry Coffee Scoop
I recently received this beautiful coffee scoop from a dear friend. It's particularly special to me because my last name is Gentry. The story behind this scoop is amazing. A designer in Oklahoma City came up with the design and collaborated with skilled artisans in Rwandan communities. I love to see the world coming together like this. The scoop is beautifully hand carved and truly a piece of art! I just love it!
PRODUCT DETAIL
Hand woven artisan baskets
Made in: Rwanda
Care: Hand wash with mild soap and warm water. Please avoid bleach and the dishwasher.
MATERIAL
Musave tree wood – which regrows after being cut
Dimensions
Approximately 5 in long

FEATURES
Holds approximately 2 tablespoons of ground coffee
Styling Ideas
The Prism basket makes a great addition to any home. Here are a few ideas to get your creative juices flowing!
ABOUT THE ARTISANS
The talented artisans that have hand carved this beautiful design take pride in their art. As a part of the Inganzo Cooperative the artisans have used the profit from their wood carving activities to buy small animals such as pigs and hens which they use to supplement their income from the sale of eggs and meat. When they began, all of the members were single. Now many of the men have been able to build homes, marry, and begin families.
On a hill near my father's home and next to my twin brother, I have build my own home with my income from wood carving.
-Sylvere Maniraguha, Inganzo Cooperative
Rwanda - Artisan content and images courtesy of Azizi Life
"Short review to show how people satisfied with your product"
BELLA WASTON - NEW YORK
"Short review to show how people satisfied with your product"
BELLA WASTON - NEW YORK