Named after its maker expert weaver Vestine, the Vestine Green Woven Baskets were inspired by a fabric Vestine found (pictured). It is a challenge for most weavers to take an established pattern and weave it with perfect balance and excellence in every stitch, but Vestine has a gift.
Dimensions:
Small - 7 x 7 x 2 in
Medium - 12 x 12 x 3 in
PRODUCT DETAILS
Handwoven artisan baskets
Made in Rwanda, in small batches & will not be remade
Care: Wipe with a dry cloth
DIMENSIONS
Small: 7 x 7 x 2 in
Medium: 12 x 12 x 3 in
MATERIAL
Natural sisal fibers threaded over
a core of locally gathered forest grasses
FEATURES
Traditional style with a modern twist
The Vestine Green basket makes a great addition to any home. Here are a few ideas to get your creative juices flowing!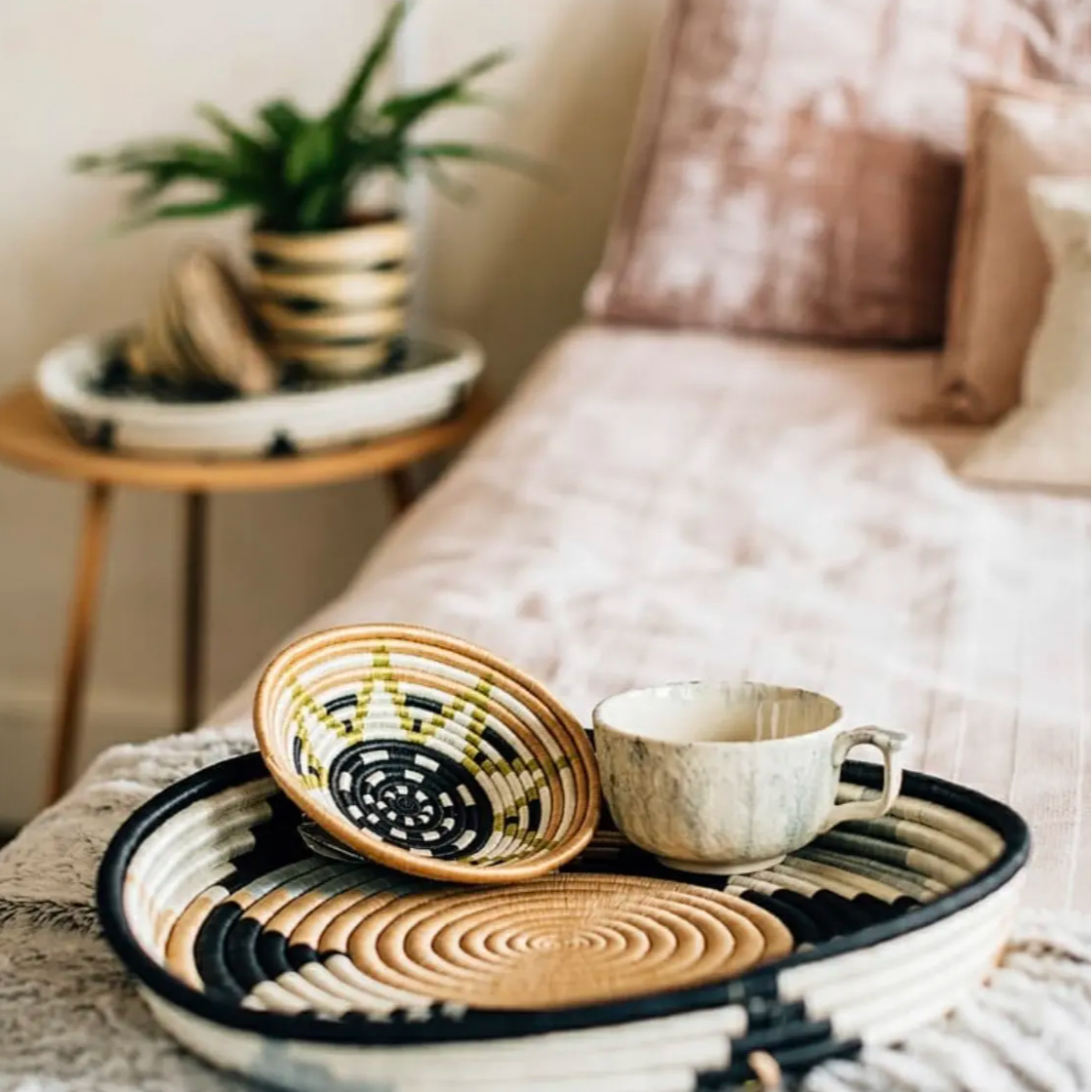 The women of the Abibumbye Cooperative do not consider themselves merely co-workers, or even friends. They consider themselves a family that helps each other grow and flourish, working together to overcome poverty. One of their few requirements for joining the group is a willingness to teach and share their skills with other cooperative members. The women pride themselves on the diversity of their talents and their ability to come together as one group to perfect their crafts. The cooperative has been working together in Muhanga District since 2008 and has over 20 members.
We hope to gain that will help us maintain better lives and say goodbye to poverty forever.
Rwanda - Artisan content and images courtesy of Azizi Life
HAVE SOMETHING SPECIFIC IN MIND?
CONTACT US FOR CUSTOM ORDERS!
Our goal is deliver your vision!