Hand tie dyed using traditional Liberian methods, each batik fabric is made with natural and organic dye on 100% cotton fabric.
Batik is a wax-resist dyeing technique that allows a design to be printed or drawn onto plain, cotton fabric using melted wax. The fabric is then dyed and the parts of the design, which are covered by the wax, are resisted. After the wax has been removed the original background color of the fabric is made visible.
PRODUCT DETAILS
Hand dyed textile using orgnaic dyes
Made in Liberia
Care: Hand wash with cool water and line dry
Please avoid bleach
DIMENSIONS
Approximately 72 in x 48 in
MATERIAL
Organic & natural dyes
FEATURES
One of a kind patterns and designs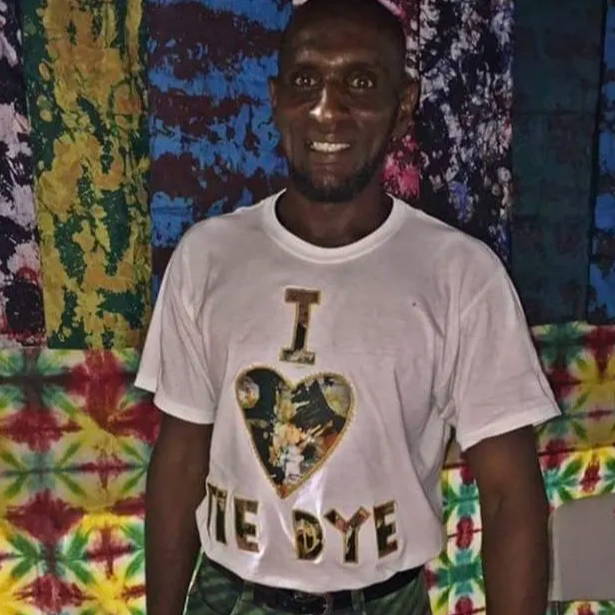 Mohamed S. Bah is a Liberian textile designer who specializes in traditional tie-dye. Based in Monrovia, Liberia, West Africa, Mamadou is married with seven children, four girls and three boys. Tie dye is his passion in life and the means by which he supports his family.
Mamadou's aim is to continue the heritage of ethical Liberian tie dye so that future generations in Liberia and around the world will be able to experience this art.
"I would like people to be encouraged to use the natural elements all around them. I hope some people reading this will be inspired and get their own ideas to use the blessings we have in Nature."

-Mohamed S. Bah, Fulbeh Fowu Textile
HAVE SOMETHING SPECIFIC IN MIND?
CONTACT US FOR CUSTOM ORDERS!
Our goal is deliver your vision!